mail to: paul@podcastpaul.com
Skype: podcastpaul
Just a few of the 130 or so folk attending the conference.
Pretty good eh?!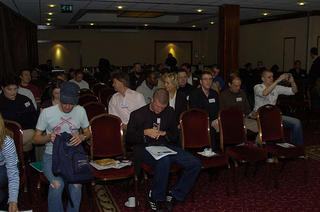 It's the day after the conference and I am sitting on the train from London back to Birmingham.
Sitting opposite me is Phil Coyne (
www.bitjobs.net
). Phil and I did a joint podcast from the hotel this morning – check it out at podcast no. 77.
Well, what can I say? It's very hard t put into words how I feel this morning; exuberant, buzzing, relieved, tired.
It's ever so odd – everyone was just how I expected them to be. I'd met Phil and Richard Vobes before, apart from that, I'd just spoken to everyone else.
I can honestly say that yesterday was so superb it was….moving. It really was the realisation of a dream come true.
It's just impossible to tell you the highlights of the day, but I can tell you some of the things that will stay with me: Milverton Wallace, a superb, articulate and gently spoken man talked about kids who wouldn't learn being enthused by the trend of the day. Back in 1992, he put on classes to teach children about the internet. The classroom was full and a line ran from the door right along the corridor.
Kids who stubbornly would not enter the classroom were happy to hang around the street corners and listen to a geography lesson with the iconic white headphones – the educationalists idea of buying into and using the trend of the day.
Neil
was a fabulous MC, Jen and Phil chaperoned at the door and folks generally had a wonderful time.
I have to say something about the folks who supported the event, not because I have to say something, because I don't.
Be*
were exceptional. Nothing less. A brand new company with a phenomenal product backed us – I am so excited by that endorsement. Dana gave a cracking very short talk and folk walked away from the conference with an amazing deal – 24 meg broadband for £24. Blimey! Three lucky so and so's won Broadband for a year. I got a free t-shirt and a flash drive…and a book on podcasting from O'Reilly that looks exceptional. I'll be reading that with some fervour later. On the subject of O'Reilly, I have to say that the wonderful Josette is….wonderful, such a bubbly effervescent lady who really bought into the idea of the conference.
Every single person who spoke brought something to the table – I was amazed at how good everyone was, and how generous they were to come to the table and speak
Mark from The Tartan Podcast gave a wonderful talk on music and was exceptionally received.
Chris Kimber gave a real endorsement for podcasters from the BBC – some audio difficulties on the presentation didn't phase him.
Richard Vobes
and
Chris Skinner
gave two excellent live shows – both incredibly different in content and style.
Neville Hobson
gave a great insight into business, and
Chris Ritke
and
www.outhink.com
gave a good insight into his very useful website and development tool.
James Cridland kept his cool to some pretty tough questions. On e chap mentioned that Virgin just 'didn't get it' … I actually tend to disagree – they do get it, or at least 1.2 million folk who listen to their radio station do. I'd be happy with that sort of audience. James' cool head and good nature seemed to be very well received too.
Adrian Pegg
and
Alex Bellinger
were stalwarts – they were both up and down sorting guests, dealing with issues that arose – stage managing etc etc. Oh, and my mate – Martin Hunt, my oldest buddy since school days did a cracking job of media presentation. You did us proud Martin.
I've said it before, and I'll say it again. Neil, Alex, Adrian, you are all top blokes. The work that went into that event was mainly down to you all – and on the day too. The whole thing went so smoothly – but Aex, Adrian and Neil were working themselves to a frazzle to ensure it went that way. Sorry boys, I really should have done more with hindsight – I promise I will next time eh?!
Thanks to Berners too – great friendly staff, amazing – and I mean AMAZING food and a brilliant place to host the conference too.
Now, it sounds corny this last bit, but the folks who really made it were the folks who traveled in and were the conference. I really hate singling people out here, but it was great to sit and chat with Geoff (Stupod) John Buckley (Dissident Vox), Phil Cambell (Rewind / Clan Life), my old mate Colin ( Colskee) and Simon Toon (slam Idol Podcast). I tried to speak to everyone because I wanted to hug everybody and say "yay!!! This is ace, cheers mate!" Obviously I couldn't and didn't do that!
OK, I am now sitting on fairly deserted Birmingham New Street Patform. Phil has gone to get the bus back home, I'm waiting for a train back home too – it's close on 3pam nd I'm really looking forward to getting home to see everyone. I've missed 'em. By the time I blog this I'll have been home for some time.
It certainly has been one big adventure. I'm already looking forward to the next one….
Podcast 77 MP3